This page presents the results of my imaging of Arp's Peculiar Galaxies, in pursuit of the Astronomical League's Arp Observing Program.
I have worked to recreate Dr. Arp's original 1966 images so they are presented in negative, with mostly the same framing and orientation. I have also endeavored to process the images to reveal the particular details that attracted Dr. Arp, to the extent possible with my lesser resolution and exposure. I processed the images with an improving series of image processing tools and sophistication in their use to highlight the faintest parts of the galaxies essential to Dr. Arp's original presentation. Even with nearly 40 years of technological advantage, mine are only a pale hint of his beautiful pictures.
In the four and one half years it took me to accomplish this task, my equipment and skill improved significantly, as did my productivity in this program. Nearly half were made in the last 12 months. I acquired the one-hundredth, an under-sampled image of tiny Arp 163 at the 2003 Texas Star Party; this had pleasant meaning for me. Dr. Arp's talk at the 1995 Texas Star Party inspired me to study the Arp peculiar galaxies, including my participation in establishment of the League's Arp Observing program, and my own entry into CCD imaging early in 1997. 44 were made over the course of 5 Texas Star Parties. Nearly 40 were made from my suburban Houston side yard, in spite of light pollution and poor transparency. The others were made elsewhere in Texas. I have imaged some, like Messiers 82 and 101, many times over. Over the last year I have re-imaged many from the earlier years to get better resolution. I would like to reshoot some more but at some point you have to stop and say it is good enough to share. It is remarkable how much faint galaxy stuff I could get with the Cookbook 211 camera and a 200mm telephoto in 1999.
All of the fields were manually found through star-hopping in the finder-scope, using the Bright Star Atlas, the original Uranometria and finally printed Megastar charts. All images were made using a Takahashi EM-1 mount with optics that grew from a 200mm telephoto lens, through a 5-inch f/3.6 Newtonian, to my current 8-inch Schmidt Cassegrain. I used three cameras, first my Cookbook 211, later upgraded to a Cookbook 245, with a few nights at the 2002 Texas Star Party using a borrowed Finger Lakes Instruments IMG-1300 camera when my camera was broken.
What a great experience!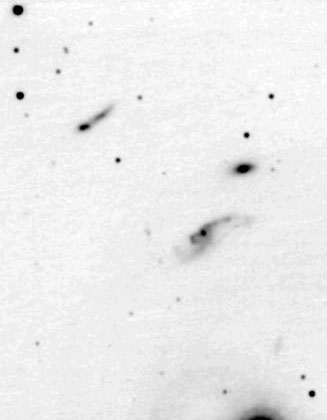 Arp 313, one of the Arp Peculiar Galaxy views composed of several interacting galaxies including NGC 3994. Imaged by the author at the 2002 Texas Star Party.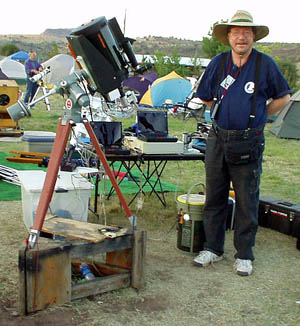 The author at the 2002 Texas Star Party with imaging setup composed of C-8, Takahashi EM-1, Cookbook 245 CCD camera and (not visible) Quickcam autoguider through telephoto lens.